A non-consensual exhibition of emerging web based art by Kaja Cxzy Andersen CANT COPE WONT COPE Autodespair Andreas Banderas Jubal Brown Hannah Tindle Riyo Nemeth Nicholas O'Brien Daniel Waldman Kacie Kim (unicorngirl) Kirstin Smallwood (Krad Choeger) Krystal South Timur Si-Qin Michael Manning Amalia Ulman Wes Friedrich Micah Naguit
Curated by Jennifer Chan
July 19 2011, Copenhagen Place, London, UK.

SELF-LOVE is a selfish endeavor to exhibit emerging web-based art without ever contacting selected artists. Continuing the impulse to highlight the individual's psychological interiority in SELF-HELP, a previous show at Copenhagen Place,this one-night exhibition approaches the social dimension of the internet as a public domain with transient outbursts of emotion. Not the first exhibition of its sort, this exhibition extends attempts at non-consensual exhibition of iconic artwork in No Permission: Absolute Heartbreak (2010), curated by Ben Vickers. After the popularization of micro-blogging and media distribution platforms, the common user becomes a content curator when he/she shares and decontextualizes information websites such as YouTube, and tumblr. Accordingly, the informality of URL-sharing and the formality of exhibition wouldn't make net art more or less permissible for exhibition if the work was already in public domain. SELF-LOVE responds to shifts in curatorial authority and cycles of value associated with media distribution on the internet.Continuing the impulse to highlight the individual's psychological interiority in SELF-HELP curated by Matthew Drage, this one-night exhibition approaches the social dimension of the internet as a public domain with transient outbursts of emotion.
---
My name is Jennifer Chan. I am an artist and also a curator. I've been interested in combining my artistic and curatorial practice to think about what is contemporary and radical within institutions. It is hard not to do this without using a lot of inaccessible artspeak and making paradoxical decisions.
Definitions

As an act of taste-making and gatekeeping, curating is an art as much as the occasion for addressing the changing stakes of distribution for both artists and curators. No longer confined to hanging paintings and photocopying in a gallery office, curating now involves flexible roles such as installation, cleaning, maintenance and administration in a postmedia environment. 1 Experienced new media curators have foregrounded the need to collaborate with their artists in realizing an exhibition due to the variability of immaterial media.2 However, claiming curator-as-collaborator in the realization of art in an exhibition space implies an implication and even infringement on the creative sovereignty of the artist. Therefore this activity of working together to create a cohesive yet ideal exhibition is more of a cooperation (for mutual benefit in a situation that calls for it).3
kaja cxzy andersen, #life, 2011.
An act of self-love involves completing a task to satisfy or resolve the part of oneself that persistently cares about a concern. The featured artworks indulge in the immediate and intimate properties of communicating with video and internet media. I hope that this exhibition of web-based art explores the potentials for affectedness and empathy on encounter of internet art within a social art context.
If one of the ethics of curating involves offering alternative perspectives to open up a public dialogue about artwork, the existing collaborative model leads me to wonder where the art in curating is if curators only serve to re-present readings of art that reflect the artistic intention. Curating the show I want to see with what I think is most self-serving and contemporary without permission from the artist might be the most subversive and self-empowering thing I can do to try and shift the canons.
Self-care
Good intentions are good intentions; maybe viewers won't actually care about the artist's concerns within these works. However, this relatively happy programming serves as a departure from previous curatorial interests in peer-juried exhibitions and technologically assisted transgression and resistance. This doesn't mean a departure from all things tantalizingly shocking either, but the placement of a self-empowering lens upon what may even be regarded as antisocial. This type of self-love is most carnally affective in Jubal Brown's I LOVE YOU THIS MUCH.
Beyond the dominant discourse of narcissistic self-reflection, performance for/with the camera places the self in a scene of vulnerability in attempt to complete or resolve a personal concern. The video shows blood slowly emanating and dripping from vertical and diagonal cuts on his torso. Hurting the self to hurt another in attempt to gain care from them, an act of self-harm is one that is conducted to cope and exercise control over ones mind and body.
Similarly, Nicholas O'Brien's "Learning to Speak in an Irish Accent" is a YouTube-based project that documents the artist learning to speak English with a strong Irish accent. Without the immersive experience of learning the vernacular oral tones of his "home" culture, O'Brien aims to learn the accent through soliciting recommendations of authentic-sounding texts from Irish-speaking YouTube users. Speaking directly to the webcam, O'Brien records his progress in a diaristic manner. He fakes the accent; the accent fakes him. Practice, persona and performance are conflated by self-critical commentary, readings of poems about Ireland. Each video shows the artist uttering and pausing often, as if anticipating failure in each performance. The project's serialism demonstrates a conscientious attempt to locate himself against popular and imagined representations of Irishness. In doing so he invents an imaginary accent, and also performs an identity that is neither entirely American nor Irish.
Continuing that attempt to engage with a community with a niche interest, unicorngirl sings Mariah Carey, Kacie Kim stoically sings Mariah Carey's "We Belong Together". Singing to the camera with a microphone-as if she were in a karaoke booth-Kim uses the cover video to invite other users to sing with her by making videos of themselves singing their favorite Carey song. Thus Kim uses her own performance as an initiation and celebration of Mariah Carey fanaticism.
Melodrama and Excessive Interaction
kaja cxzy andersen, http://cxzy.biz/poemz/7.html, cxzy.biz, 2011.
The emotional dimension of socializing on the internet through interaction with a screen is apparent in Cxzy.biz by Kaja Cxy Andersen. The website is a blank rendition of the Facebook interface as a personal web page. This page also functions as the artist's portfolio, where users may clickthrough to view assemblages of .gifs, theatrical screenshots and emotive poems. In her practice, Andersen has used social networking and live chat as a way expressing internal emotions from heartbreak to frustrations with the medium while hanging out on the internet.
Taking emotional expletion to extremes, Kristin Smallwood's Maximum Exposure is available as a website or a video. Rich with intertextual references to pop culture, porn culture, and consumer interfaces, the artist describes it as "a video depicting use of the Internet based on a fictionalized narrative". In juxtaposing mediation and fiction, Smallwood simulates and reappropriates characteristics of the online visual experience to produce unsavory connections between our bored, yet distracted experiences with the computer interface.
Seen and unseen users banter whilst annoying pop-ups fill the screen. Teenagers appear to exploit online anonymity to act vulgarly and out-of-the-ordinary. While much of the dialogue appears ironic and self-consciously pretensious, Smallwood directs it purposefully to reconcile the social media's openness with its potentials for trolling, even though its members may be connected. While indulgent in the niches of young net art, Smallwood's work not only aligns itself with the hyperactive pace of Ryan Trecartin and or the eccentricity of Sarah Weis, but blurs lines between online and offline socialization. It is unashamed, amateur-styled art that is made as entertainment made for net artists. In both Smallwood and Andersen's work, melodramatic excess and use of internet vernaculars express an enjoyment for communication on a screen-based environment.
Collection and display
The chronological nature of distributing media on tumblr has allowed users to present art in a grid or a stream. Like flickr and twitter the consumer microblogging platform has been co-opted by artists to perform and collect images efficiently. Accompanied by soothing music (something along the lines of the 800% slower convention), Hannah Tindle's tumblr showcases a series of stock photos and found images that address beauty and comfort. Here the artist performs the role of the archivist and curator of content with no verbal dimension. While the image-stream format has been denigration of attention and aesthetic Extending the fetishistic relationship with images of objects, Amalia Ulman's "intuitive browsing" website shows collections of hand-modeling images on white space. Ulman employs a commercial aesthetic by arranging images symmetrically on a white background¬ without selling a product. On the final page, a bell sounds when the user clicks on a pop-up with a stock image of a hand holding a bell. A webpage with more comfort products appears in a separate window.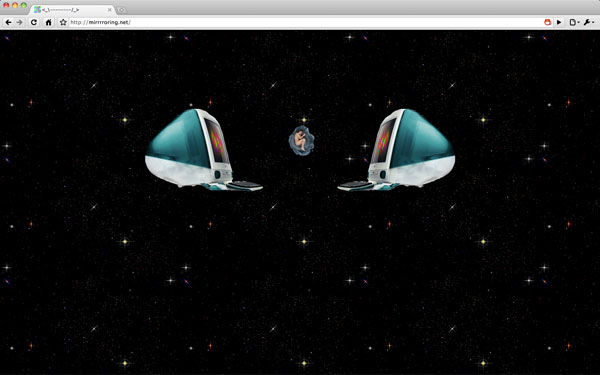 The aforementioned websites appear minimal in contrast to Michael Manning's mirrrroring.net is an indulgent, maximalist exploration of the gif's fanciful one-liner kitsch aesthetic. The pages take the user through a series of layered, visual metaphors that invoke thoughts about birth, youth, and happiness. Flying text, floating pizzas, satanic symbols, and celebrity couples constitute some of the vibrant animated wallpapers that fill each page. One of the most memorable being that of the human in a fetal position passing from one monitor to another on the index page. Both irreverent and relevant for the internet aware subject, the website uses low-fi gifs to invoke a sense of nostalgia that assist a sort of internet wanderlust.
Empathetic Gestures
What does it mean to make art for any one person who may watch? With over three hundred videos on his YouTube account, Daniel Waldman uses the internet medium to explore everything fascinating and awry in his life. The plethora of deliberately amateur webcam and found footage videos reflect his connection to the camera and consumer production software as impulsive and internal. Daniel Waldman uses his camera as an extension to his eye and body in FILE0062.mov to express his desire to be seen and heard from first person perspective.
Moving from a mocking representation of Duchamp's L.H.O.O.Q. to his living room and kitchen, Waldman confesses, "I will eat anything, literally anything…to the point of becoming a really fat man". The video ends abruptly with him reaching for a donut from a clingwrapped plate of pastries on the kitchen counter. His videos are made for viewing regardless of viewcount–on the social network.
Download double-bind.pdf
In keeping with the amateur aesthetic, I chose to display print-outs of .PDF and zip files he had created to distribute his text and drawing work in plastic folders.
Semantic Slips
Visual-verbal puns often inspire found object installations of electronic and analogue objects in real space. Sometimes minimally constructed or poorly installed, these gestures play on our familiarity with computer media to understand humorous juxtapositions of found and alreadymade objects. Andreas Banderas' Caps Lock is an unlikely installation of a plain black cap, a chain and a small lock. Mundane computing vocabulary (caps lock) that is usually used to title the button for capitalizing typography is literally reinterpreted as sculptural object. Placed on a plinth, this absurd and deliverate combination of art and non-art objects recall historical attempts to reevaluate the notion of art (within the Duchampian paradigm) by installing the found in a perfunctory manner. These trivial attempts expose low production costs and an awareness of visual-verbal referencing as a tactic used by previous conceptual masters like Sol LeWitt and Bruce Nauman.
Timur Si-Qin's Untitled (Ouroboros) is a wall-mounted installation of a connected male-to-female electrical cable. Displayed in circular formation, its titling and installation suggests the circularity and redundancy of a snake eating its own tail or a completed, yet unpowered circuit. Si-Qin addresses the absurdity of this infinitely repeatable installation in Best Value. The promotional video features a modular sculpture constituted by translucent coiled electrical cords placed underwater in storage containers. Laid out in a gridded formation, the blaring hip hop soundtrack (Swag OD by SoulJa Boy and Lil B) crassly contrasts with clinical and objective documentation shots of technical equipment and circuity.
Wes Friedrich, Hoods, 2011.
Wes Friedrich's Hoods consists of two hooded sweaters that are mounted side by side and zipped to each other. One arm from each sweater crosses into the other's pocket. Anthropomorphizing the sweaters as friends or lovers, the artist creates a wall-mounted sculpture about intimacy in the absence of representing humans. banal likeness in alreadymade products in Felix Gonzalez Torres' Perfect Lovers, the viewer is left to contemplate the animation of these utility products as uncanny and sensing in their sameness and symmetry.
Riyo Nemeth's Distressed Photocopyis a physical alteration of a photocopied image of Bas Jan Ader's I'm Too Sad To Tell You. According to description on her website, the artist placed the photocopy in a Ziploc bag to rub off various parts of the image. In this work process (to distress, wrinkle, erode) becomes metaphor in alteration of a referential digital image with mechanical and manual labor invested upon its making. Exhibited in a Ziploc bag, I attempt to expose its process of production without relying on additional linguistic description on a wall label. Fold II on the other hand, is an installation of a single sheet of paper on a plinth that is created by folding along the edge of a digitally rendered gradient. Recalling formalist inquiries into digital painting in Photoshop gradients by Cory Archangel, Nemeth turns a flat, automated digital filter into a subtle sculpture–a minimal gesture that blurs boundaries between digital painting and spatial installation.
Intention versus Perception
It seems like my undertaking of non-consensual exhibition is characterized by info-glut and abundance. At many points not having contact with the artists seemed to prove more difficult for accurately recreating artworks as documentation didn't provide enough evidence.
I haven't written about every single piece of work in this exhibition; I didn't have enough time, didn't feel I had enough research, was biased to what I genuinely liked… so on and so forth, but I hope I have productively contributed to employing a curatorial approach that is not employed often enough. This is one that foregrounds curator as artist, context-producer, critic and researcher. Screen-based presentation on websites imbues objects with an aura that passes through cycles of valuation and devaluation due to its presentation as both art and documentation. As Michael Betancourt observes, "The encounter with a digital object remains a material engagement, but one where the material is separate from the digital work, serving as a presentation of the work -- i.e. what is seen and heard watching a videoclip on a computer." 5
Aura is both eliminated (decontextualized from the necessarily "net art" genre) and regenerated in the translation of documentation to physical objects in a contemplative white-cube space. As instruction for recreating installations, the photographs of these works as installations play with notions of art as possible and feasible commodities. In their locked and linked placements, I identify an emotional investment in their value as instruments that are indexical of mediated interpersonal communication.
~Conclusion~

While connections between the selected works may appear disparate and perhaps the project is too aggregate, SELF-LOVE is attempts to counteract some embarrassment with technologically mediated sentimentality and the often sterile aesthetics of contemporary art. Reductively speaking, the pleasure of making translates to the caring of the self in creation of essentially useless aesthetic meaning to share with our extended networks–too much information. Exhibited as part of online website portfolios, beautiful documentation appears in white-space content management systems (indexhibit) with neatly listed sidebar navigation in hopes that any art appreciating person may come upon it. If not, hours of earnest videos and roughly compiled pdfs pepper the web with personality, affinity and disclosure. What is experienced in our gratuitous posting or procrastinated surfing is a continuous caring of the self.
---
3Of collaboration, Maria Lind writes, "Concepts such as collaboration, cooperation, collective action, relationality, interaction, and participation are used and often confused, although each has its own specific connotations..."Collaboration" is, as the above definition suggests, an openended concept, which, in principle, encompasses all the others. Collaboration becomes an umbrella term for the diverse working methods that require more than one participant. "Cooperation," on the other hand, emphasizes the notion of working together towards mutual benefit."
Maria Lind, The Collaborative Turn, edited by Beatrice von Bismarck, Taking the Matter lnto Common Hands: On Contemporary Art and Collaborative Practices Black Dog Publishing, 2009. http://doublesession.net/indexhibitv070e/files/lindthecollaborativeturn.pdf
4Oliver Laric, Versions, 2010. http://oliverlaric.com/vvversions.htm
5Michael Betancourt, "The Aura of the Digital", 1000 Days of Theory, edited by Arthur and Marilouise Kroker, 2005.http://www.ctheory.net/articles.aspx?id=519
***Jen wants to thank Copenhagen Place, Matthew Drage, Paul Gwilliam, Justyna Kabala, and Jazmine Miles-Long for install help and setup.***